Many, many, many thank you's to Mary Hale for her endeavoring heart to help those with cancer and their families through the Pink Arrow Project. The Pink arrow Project is closed, but we still appreciate all that Mary has done for so many!!! We wish Mary the best in her next endeavour.
Kneelindsign created the Pink Arrow Project a new look and with several additional elements to their website giving visitors a more visually pleasing and friendlier navigating thru the pages and posts. Be sure to check out the "About" page to know more on what the Pink Arrow Project does and how you can help support the efforts to providing for families with a loved one who has been diagnosed with cancer and for the future research for a cure. Show your support as they "Aim for a Cure"
 Visit and be encouraged! www.pinkarrowproject.com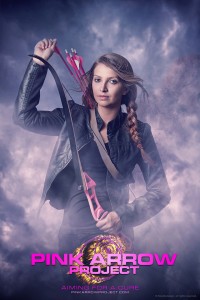 The "On Target" page shows more artwork created to reach a larger number of supporters and to give children inspiration and encouragement. The first "On Target" poster has delighted children at Saint Jude. Know they enjoy the artwork is the highest of compliments I as an artist can possibly attain.