Kneelindesign is personal design for artists, businesses and individuals. Creating content for print, web and video uses. having worked with such artists as; Marty Raybon, Rodney Dillard, Russell Moore & IIIrd Tyme Out, Lonesome River Band, Breaking Grass, Carrie Hassler, Bobby Osborne & Rocky Top X-press, Bill Emerson & Sweet Dixie, Lou Reid & Carolina, Grasstowne, Del Shields, Spinney Brothers … and many more.
---
Full Album Manufacturing
Offering full album manufacturing including artwork, duplication, printing and packaging. You get high quality printing and duplication.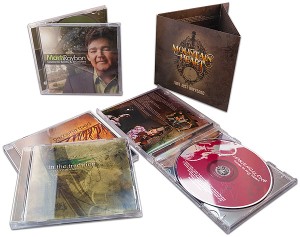 Pricing Example
Type: 6 panel jewel case
Includes: artwork, duplication, upc, packaging
Quantity: 1000
Estimated cost per unit: $1.75
(shipping is additional charge)
Contact for pricing at graphics#kneelindesign.com (replace # with @)
---
"Quotes"
"I have had the opportunity to work with Anthony Ladd on many occasions and have been extremely pleased with his high level of talent and attention to detail.  He has been a pleasure to work with on projects including, but not limited to graphic design, logo development, album artwork, websites, photography, and much more.  Anthony is a true professional and I will continue to refer him to my clients."
~ Penni McDaniel (Hope River Entertainment) 
"Anthony Ladd is one of the finest photographers I have worked with in many years. His understanding of lighting color and texture and most importantly (content!) goes beyond normal boundaries. His insight  into what his client needs is amazing. Anthony is a true artist."
~Rodney Dillard (The Andy Griffith Show)
There is really no way you can explain the eye of a Photographer. Because it starts in the mind of great understanding of how it will look before the shot is ever made. That in of itself is a gift and Anthony "Eyeman" Ladd uses His eye to put it in focus. His graphic design's have that fresh snap and always seems to have that  just what it takes look
~ Marty Raybon (Singer/Songwriter)
---
Packaging Artwork & Print Items
Album artwork, Magazine advertisements, Posters, Business cards, Postcards, Billboards
---
Photography Services
High quality photos for press and promotional use with magazine style editing available.
---
Video Production
Providing high quality Video Production Services, specializing in artist music videos, EPK videos, web commercials and more.  All videos are shot in HD at the highest resolution to achieve a broadcast quality finished product. In partnership with Hope River Entertainment who provides publicity services, we can help you achieve your goals of increasing your international exposure through Web, TV and Social Media sites with high quality videos.
Lonesome River Band EPK video showing the on stage excitement at an LRB show. Shot in Blowing Rock, NC  at the arts center.
httpvh://youtu.be/4qjVznpInMg

"Justified" written about the FX show of the same name. This was one fun shoot! We shot two locations in Harlan, KY. The first was the old iron bridge and the second in downtown Harlan. The additional clips were filmed at different locations in Harlan and in  Pikeville, TN and Dunlap, TN.
httpvh://youtu.be/m3LRVSKNu84